PERGOLAS
With the embossed surface of our Alumawood pergola structures, you'll enjoy the beauty of a richly textured wood grain finish with a fraction of the maintenance. Our structures won't crack, peel or warp. They're also termite-proof and never need painting. Our Alumawood pergola paint system with Teflon surface protector repels dust, dirt, oil and stains, keeping a pristine appearance. Call today for your free Phoenix Pergola design consultation. There's no shortage of special moments to spend with your family and friends in a beautiful backyard retreat designed & installed by Falcon Landscapes Pavers & Masonry. Falcon has mastered the art of bringing your comfortable indoor living space into the great outdoors! BBB Accredited A+ Rating, ICPI Member Certified, Belgard Authorized Contractor, Award Winning Design and over 100 Five Star reviews.
By providing the highest quality materials and superior workmanship, Falcon Landscapes has built a solid reputation for integrity, reliability and quality in Phoenix Landscape Design. In this age of impersonal and often disappointing customer service, we pride ourselves on providing exceptional personal service.
FALCON LANDSCAPES has cultivated its award-winning landscape design business for over 18 years, delivering beautiful and creative outdoor living areas. Rooted in a foundation of authenticity, creativity and integrity, Falcon Landscapes values its opportunities to add beauty and value to the homes of our clients.
Note:
500sf paver install minimum. We do not install block walls, do repairs or provide landscape maintenance.
Aside from their upscale visual appeal, pavers are environmentally friendly as they are a self draining system. Sustainability! Falcon's permeable paver and turf systems offer durability, life-cycle and aesthetics. No mowing growing or watering!
An outdoor space is not defined by unimaginative cookie cutter plans. It's about how you feel when you walk out your door and envision your life unfolding there. It's about that perfect spot in your yard to take pictures for the first day of school, the outdoor kitchen to celebrate your family milestones or that cozy fireplace where your family gathers on those cool desert evenings to make s'mores and spend quality family time.
Falcon Landscapes creates spectacular outdoor spaces that seamlessly extend your comfortable indoor living space into Arizona's great outdoors. From paver patios, courtyards and garden paths to accessorized outdoor kitchens and outdoor living rooms, our landscape designs elevate any space with an air of elegant sophistication and resort quality ambiance.
When you are ready to make the investment in your home that will add curb appeal, value and years of enjoyment for your family, Falcon Landscapes will create the largest living area at your home.
Call 480 518 6086 today for your free design consultation!
Have your landscape look like a picture from a magazine
Falcon Landscape work has been included in the Belgard paver catalog.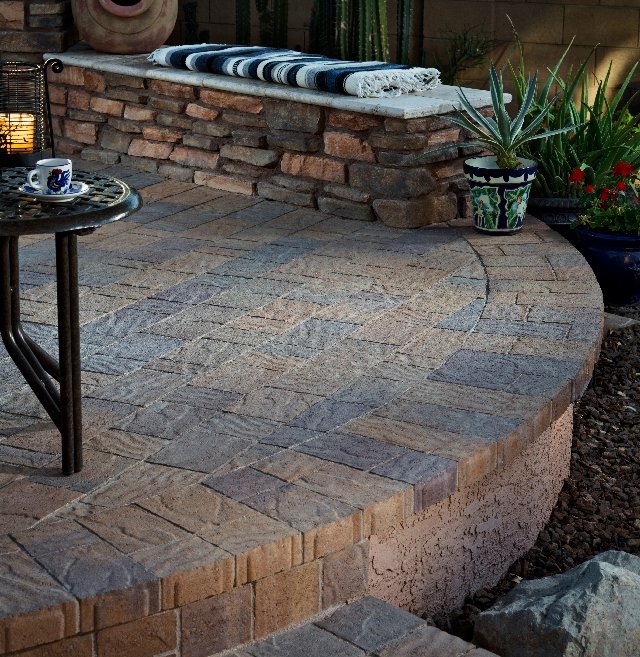 Falcon Landscapes offers a number of color choices and an wide variety of design possibilities that will perfectly compliment your home. Call us today for your free Phoenix pergola design consultation at
480 518 6086.